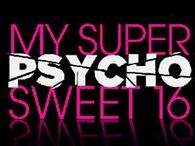 Welcome to the Wiki
Edit
This wiki is about the MTV Original Movie Trilogy, My Super Psycho Sweet 16, Parts 1, 2 and 3. The films follow Skye Rotter and her serial killer father who has returned to wreak havoc on Skye's life. Horror and teen angst collide in this popular movie series as Skye, Brigg, Alex and Derek must survive Rotter's onslaughts and real bitches like Madison, Zoe and Brynn.
Latest activity
Edit
Ad blocker interference detected!
Wikia is a free-to-use site that makes money from advertising. We have a modified experience for viewers using ad blockers

Wikia is not accessible if you've made further modifications. Remove the custom ad blocker rule(s) and the page will load as expected.